Your gas fireplace can be a centerpiece of your home where you and your loved ones can gather and bask in the warmth and beauty of the flames. But your fireplace can, if neglected, also become dirty and even dangerous. That's why it's important to have it serviced appropriately.
If left for too long without service, you may end up needing more extensive—and expensive—gas fireplace repair and maintenance.
Read on to learn more about the many benefits of regular servicing.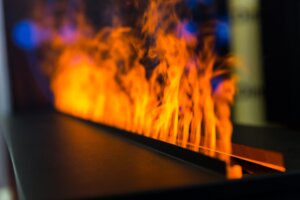 Inspect For Gas Leaks
A gas leak can be extremely dangerous for you and your loved ones. Just a tiny puncture in the gas line or a single damaged valve can be disastrous. But with an annual inspection, you can rest easy knowing that your gas is contained, and your pipes are working as intended.
Improve Functionality
It can be beyond frustrating to settle down by the gas fireplace on a beautiful winter day and turn it on only to discover that no flame is produced. Like with any appliance, over time the individual components of your gas fireplace will wear. Having them inspected every year will make sure that they function as intended and can also help prevent more expensive repairs and replacements by catching issues early and fixing them.
Ventilation
Your chimney can become obstructed by animals like birds and rodents over time. If they do block it, this can hamper ventilation. While gas fireplaces burn clean, they still create debris that can build up in your chimney that can then accumulate over time if the chimney is blocked. This, in turn, can become hazardous to your home.
Save on Energy Costs
If your fireplace isn't operating at peak efficiency, that could result in a higher-than-usual energy bill month after month with prolonged use. A simple inspection can save you money on those energy bills by identifying and fixing the issue.
Expert-Led Gas Fireplace Service in East York
If you want gas fireplace repair and maintenance done by experts, then you want AccuServ Heating and Air Conditioning.
We can inspect your gas fireplace for issues, identifying them before they can grow hazardous or expensive, and fix them quickly and efficiently.
Our team is comprised of top gas fireplace technicians who know what to look for to prevent major breakdowns. Get unparalleled customer service that ensures you're always treated with care, respect, and dedication.
Have questions? We have staff ready 24/7 to answer any of your questions and concerns.
Contact us today or call us at (416) 269-2228 to get more information about our gas fireplace service in East York.