Keeping your gas fireplace running smoothly (not to mention safely) can seem like a daunting task. But it doesn't have to be! With our fireplace maintenance tips, you'll be able to keep your gas fireplace in pristine condition without having to exhaust yourself. After all, no one wants to be left without the cozy comfort of a fireplace during the cold winter months ahead!
Below we list some fireplace service guide and maintenance tips, so you can be sure that your fireplace is working as efficiently, fast, and stress-free as possible.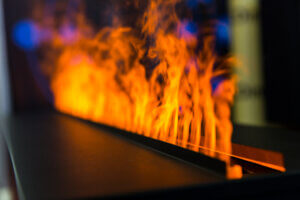 Check if the Fireplace Damper and Flue Are Functioning
The damper is an important part of your chimney, located in the flue. It helps to keep cooled or warmed air from escaping through the flue when the fireplace is not in use. In other words, a malfunctioning damper can cause your energy bills to surge if not properly maintained.
It's also important to thoroughly inspect the flue. Check to see if there are any cracks, water leaks, gas leaks, or debris that might cause a blockage or prevent hazardous gases from escaping through your chimney or vent system.
Inspect All Fire Alarms and Carbon Monoxide Detectors
Speaking of hazardous gases, gas fireplaces create carbon monoxide which is usually vented outside of your home. In the off chance that your gas fireplace is malfunctioning, the carbon dioxide could be released into your home.
It's important to ensure that all your fire alarms and carbon monoxide detectors are in good working order, so you can avoid catastrophe for you and your family.
Check the Pilot Light
Not only is it important to ensure that your pilot light is working, but it's even more important to ensure it's switched off before you begin any and all cleaning and inspection of the fireplace. Make sure to turn it off about an hour before you begin maintenance to allow enough time for the gas to disperse and the fireplace to cool.
Not sure where your pilot light is located? Contact a gas fireplace repair and maintenance company for assistance.
Get Annual Maintenance
While there is a lot of fireplace and chimney maintenance you can do on your own, if you want to ensure that your fireplace is truly safe to use after repeated use, then you're better off bringing in gas repair and maintenance experts for inspection yearly.
If you're looking for gas and fireplace services in East York that let you rest easy knowing your fireplace is in perfect working order, then you need AccuServ Heating and Air Conditioning. We'll make sure your fireplace is in good working order as well as provide a fireplace service guide that you can refer to for future cleanings.
Our team is made up of top technicians who know what to look for to prevent major breakdowns with your gas fireplace. Get unparalleled customer service that ensures you're always treated with care, respect, and dedication.
Have questions? We have staff ready 24/7 to answer any of your questions and concerns.
Contact us today or call us at (416) 269-2228 to get more information about our gas fireplace maintenance in East York.