We depend on our heating, ventilation, and air conditioning system (HVAC) to maintain comfort and improve the air we breathe. While not all HVAC systems are the same, most rely on ductwork.
What is ductwork? Ductwork refers to the "pipes" used to circulate air throughout a building as it distributes air for temperature control, filters outside air, and removes toxic indoor air.
Keep reading to learn more about the different types of ductwork in HVAC systems.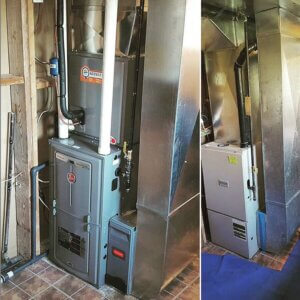 Different Types of Ductwork 
Residential ductwork tends to be different than ductwork used in commercial buildings. The sizing, shape, and the material is crucial and can be determined by your HVAC specialist. That being said, ductwork falls under a few main categories.
Rigid Ductwork 
Most rigid ductwork is made with strong materials and provides smooth airflow but is not useful in small spaces due to its inflexibility.
Sheet metal ductwork is constructed by aluminium or galvanized steel, provides good airflow, easy installation, and prevents mould from forming.
The fiberglass-lined ductwork maintains proper air temperature, cuts down on noise production, and prevents condensation. However, the porous fiber particles can be released from ductwork cleaning.
Fiberboard ductwork is constructed of sealed pressed fibers to prevent escape of harmful particles and is covered in foil as a self-insulator. The coarse material does produce an irregular airflow, and the fibers can lead to mould formation.
Flexible Ductwork 
As with the name, flexible ductwork works in confined spaces but can produce kinks to reduce airflow, as can the interior ridges. Made of plastic, it is resistant to rust, mould, and respiratory illness factors. There is less chance of air leaks but it can easily be penetrated, hindering airflow.
Square or Round Ductwork 
For many buildings, the ductwork shape depends on the amount of space available and the requirements of the HVAC system. There are advantages and disadvantages of using either, or a combined of both.
Rectangular 
Rectangular ductwork takes more material to construct and does not cancel noise well, which can produce a loud environment. However, it requires less height space and fits in small, tight spaces. Rectangular ductwork uses connectors between pieces which can lead to air leaks.
Round 
The round ductwork shape calls for less seams with its long length and provides better airflow. It does require more height space but provides a sound buffer making for a quieter environment. Two variations are available, traditional and spiral, the latter of which is often used in exposed spaces for a stylish appearance.
Get Residential Ductwork Installation in Toronto
The experts at AccuServ Heating and Air Conditioning have been performing ductwork installation in Toronto for more than 30 years. Our trained technicians provide installation and modification of ductwork services in Ontario that fits best for your operation and budget. AccuServ's top service of assessments and repairs of HVAC ductwork in Toronto has earned the company awards from accredited organizations across the province. Contact us today or call us at (416) 269-2228 to get more information about our ductwork installation services in Toronto.