The chilly winter evenings paint a picture of curling up in front of a roaring fire sipping a hot drink and reading your favourite book. But what about the tedious cleanup, hauling wood, and risk of a chimney fire?
Don't fret. Wood-burning fireplaces aren't the only way to enjoy a nice fire this winter. Instead, consider a gas fireplace installation! Gas fireplaces are safe, efficient, and best of all, can add value to your home while reducing heating costs.
Here are just some of the reasons why you should install a gas fireplace in your home.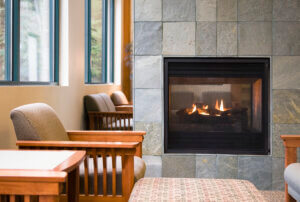 Increase the Value and Desirability of a Home
Every significant addition to a home increases its investment value. Fireplaces are a highly sought commodity when it comes to homebuyers, especially in Canada. Most realtors use the fact a home has a gas fireplace as a major selling point (location is always first). Plus, homebuyers love the idea of having ambiance without the work. The cozy setting can help to release the day's worries while soothing the soul.
Safety
Studies have shown that traditional wood-burning fireplaces can emit harmful indoor air pollutants in your home, such as nitrogen oxide. In addition, they release toxins into the environment via the chimney, which can contribute to smog, acid rain, and other problems. Today's modern gas fireplaces, on the other hand, meet all safety standards and safely vent emissions (specifically carbon monoxide) to the outside through a sealed system.
Energy Efficient
Gas fireplaces are considered very energy efficient. The energy efficient rating of an appliance or heating system is based on the amount of heat produced that is lost. A wood-burning fireplace loses up to 75% of its heat through the chimney while a gas insert fireplace only loses up to 30% through a wall pipe.
Instant, Controllable Heat
The heat from a gas fireplace can be accessed in the simple touch of a button. It quickly begins to heat a room based on the setting of the thermostat. As a bonus, many gas fireplaces come with a remote control, so you don't even have to leave the comfortable couch to adjust the settings.
No Power, No Problem
Winter weather can bring storms that knock out power, which causes most homes to lose heat. With a gas fireplace, there is no need for electricity as the device will continue to keep your home warm.
Save Money on Heating
Despite the initial thought of having another heating system in your home to increase your monthly gas bill, gas fireplaces actually help to save on energy costs. As mentioned above, gas fireplaces are very energy efficient. They act as a zone-heating system, which means they can heat a specific room in your house (usually an area with the highest traffic area) and any central heating system can be adjusted to a lower setting.
AccuServ Heating and Air Conditioning offers 24/7 service on repairs and maintenance of boilers, furnaces, water heaters, air conditioners and gas fireplaces in East York. Looking after our friends and neighbours for more than 30 years, we provide service for all of your HVAC needs. Contact us today or call us at (416) 269-2228 to get more information about our gas fireplace maintenance in East York.