Now that fall is here and the cold weather is fast approaching, this is the time of year where your furnace really shines (or warms, to be more precise). 
But in order to shine, it has to be working correctly. It's a great idea to schedule some maintenance on your furnace in the fall, so that come wintertime, it's ready to go and you're not left facing a hefty repair bill and a potential long wait time during a freezing winter month. 
Read on below for our furnace maintenance checklist, which will help you ensure your furnace is in good working order and help you discover any minor issues before they can balloon into major problems.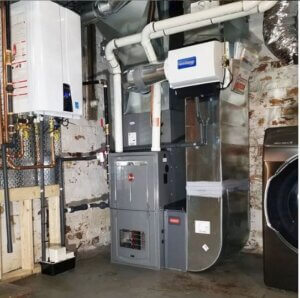 Replace Your Filter
Too often overlooked, many people forget to replace their furnace filters every month or so to make sure they're in good working order. Note that this does not apply if you're using a washable filter (which, as the name implies, can be cleaned). You'll want to keep the date in mind every time you install a new filter. 
Ensure Your Vents Are Clear from Obstructions
If your vents become clogged, it can cause heating and cooling issues. No matter how clean your home is, dust will accumulate over time in your vents. Check them periodically and use a vacuum hose to clear out any dust and debris. Better yet, getting yearly furnace maintenance or air duct clearing by professionals will keep your vents clean, so you can rest easy knowing you're safe.
Check Your Thermostat
An inaccurate or malfunctioning thermostat may mean you're using more heat than you need (and overpaying) or not using enough (and suffering in the cold). Be sure to check that it's in good working order every few months. 
Schedule an Inspection
While there's a lot you can do on your own, the frank reality is that you'll still likely need a professional to come in and make sure that all the more technical components of your furnace are in good working order. Yearly maintenance of your furnace should do the trick. 
Get Top-Tier Furnace Maintenance in East York, Keeping Your Home Safe and Your Heating Bill Low
If your furnace is malfunctioning, it could cost you a great deal of money month over month in inflated heating bills. Or worse, it could put your household in danger.
But with AccuServ Heating and Air Conditioning, you won't have to worry; we have you covered. 
If you're wondering how to maintain your furnace, schedule an appointment with us. We'll make sure your furnace is in good working order as well as provide a furnace maintenance checklist that you can refer to in the future. 
Our team is made up of top furnace technicians who know what to look for to prevent major breakdowns. Get unparalleled customer service that ensures you're always treated with care, respect, and dedication.
Have questions? We have staff ready 24/7 to answer any of your questions and concerns.
Contact us today or call us at (416) 269-2228 to get more information about our furnace maintenance in East York.