The boiler system is a complex configuration of pressure, high temperatures, and, in some cases natural gas. It's an essential component of your home's heating system, which is why it's important to know when to call for boiler repair services in East York.
If you experience any of these boiler repair warning signs it might mean that your boiler needs to be repaired. Make sure to call in the experts to repair your boiler before things get worse.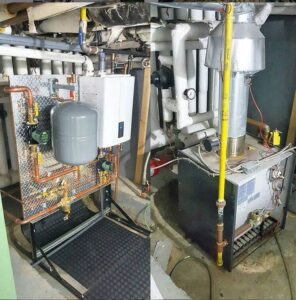 Slow Heat or No Heat at All
If the boiler is emitting heat but the system is taking longer than usual to heat up, this can be attributed to poor circulation, a buildup of air, or even clogged piping.
Meanwhile, if your boiler isn't producing any heat at all, it could indicate that the electric fuse or breaker has been tripped or the pilot light went out. Failing to produce heat can be caused by air, absence of water due to a leak, or malfunction of the valves.
A boiler technician can investigate whether a full system bleed or a part replacement is required.
Rumbling and Rattling Sounds
If a banging or whistling noise is heard from your boiler, your best bet is to get a professional inspection. A boiler technician can detect if the banging noise is related to a fan or pump issue.
While some sounds may be normal, if you hear a gurgling sound, it may indicate that the water pressure is low. Meanwhile, you may hear a whistle—also known as kettling—if there is a buildup of minerals in the heat exchanger. This is similar to the sound a kettle makes when the water steams and boils.
Foul Smell
A boiler system can emit odd odors when there is a mechanical failure or an issue with the electrical components or gas line.
If you smell rotten eggs, this indicates an issue with the gas line and could mean that you have a gas leak. A gas leak can be serious. If your gas line is also leaking carbon monoxide, you won't be able to smell it since it's odorless.
Make sure to contact a professional to inspect your boiler if you notice any odd/foul smells.
Water Leaks
Water leaks can be caused by the boiler pressure needing to be topped up or there could be excess pressure. It may also occur when older parts fail. A damaged heat exchanger can cause leaks.
If the heat exchanger is damaged you may also notice that the heat is not being circulated correctly. Heating issues can also arise when part of the house is warmer than in other places.
Contact AccuServ Heating and Air Conditioning for Boiler Repair Services in East York
For any issue or emergency, contact the leading boiler technicians in East York at AccuServ Heating and Air Conditioning. Our certified technicians are available 24/7 to meet all repair, installation, and maintenance boiler needs. We offer maintenance programs that entail a 21-point inspection to help prevent emergencies. Contact our knowledgeable and friendly representatives today!