Your heating, ventilation, and air conditioning (HVAC) system is the heart of your house. Without proper HVAC maintenance service in Toronto, you could be facing dangerous air quality, high utility bills, and costly repair bills.
Preventative measures for your HVAC system can be compared to regular car maintenance appointments or regular checkups we do with our doctor or health practitioner. We depend on the outcome to ensure the car we are driving our family in is safe for the road and we hope our doctor will give us a clean bill of health.
Your HVAC system is much the same as it too needs a certified professional to give it a regular checkup. The importance of HVAC maintenance is evident for the following reasons.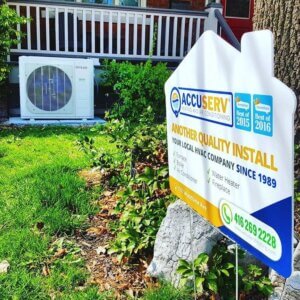 Saves You Money
One of the biggest reasons for preventative HVAC maintenance is that it can save you money. Having professional maintenance regularly scheduled will ensure the system is working properly all year round. A system check can prevent the need for emergency repairs or replacements.
In addition, regular HVAC maintenance helps to lower energy bills, helps to extend the life of the entire system, and ensures the system complies with the manufacturer's warranty. In fact, most warranties require proof of maintenance services in the case of parts malfunctioning or replacement.
Improves Your Air Quality
The health of your family depends on the air quality throughout the home. One of the functions of an HVAC system is to help filter out airborne contaminants such as dust, debris, and other indoor pollutants. During a regular HVAC checkup, the air filters, coils, and fan motors are inspected and cleaned or replaced if necessary. This can improve indoor air quality.
Improves Efficiency
By having the filters, system components, and ductwork regularly maintained and cleaned, an HVAC system will work more efficiently. An efficiently running system should prevent the humidity and room temperatures from fluctuating and maintain a comfortable level.
As dirt and debris build-up within the system, it takes more energy and effort to work properly. This can translate to higher heating and cooling bills as well as strain on the components.
During the service check, the technician will test the efficiency of the unit and recommend solutions to ensure your HVAC system runs more efficiently.
Provides Greater Peace of Mind
A homeowner has enough stress and worries in maintaining a healthy and safe home for their family. Knowing the heat will turn on during cold winter nights and having good air quality is one less concern to have. Scheduling preventative checkups, as we do with our health practitioners, offers peace of mind that your HVAC system is working as it should.
Ensures Fewer Emergency Repairs
These same preventative measures are used to prevent possible emergency breakdowns or repairs. We know all mechanical systems will need repair or replacement at some point due to wear and tear. What we don't know, for the most part, is when these things will happen.
Having the HVAC system regularly inspected by a professional technician may help reduce the need for an emergency callout. They have the tools and knowledge to spot potential hazards and issues with the components during an inspection. They can recommend the best solution to prevent future issues.
Provides a Safer Home
A properly working HVAC system can keep your home safe in more ways than one. As the health of your family is of the utmost importance, it is crucial to ensure there are no issues with the system that can cause carbon monoxide to leak.
Known as the silent killer, this deadly gas can form from a malfunctioning heat exchanger or a crack within the system. A preventative maintenance check can detect this. It is also recommended to install a carbon monoxide detector in homes that rely on an HVAC system.
A lessor threat, but one not to ignore, is the malfunction of the system while the family is away on holiday, especially during the cold months. Without a proper checkup, the heating system may stop working, causing pipes to freeze, and burst. Not a welcome-home scenario you want!
Makes Your Household More Eco-Friendly
Everyone is concerned about the environment and the world their children and grandchildren are inheriting. With the design of modern HVAC systems, the family carbon footprint is now smaller than it once was. Furthermore, having an efficiently running system requires less energy and fuel, lessening the impact on the environment.
If your HVAC system relies on oil heat and uses an older-style thermostat, have a discussion with your professional HVAC technician about switching to natural gas and programmable thermostats. These actions can have a significant influence on your family's green footprint.
Extends the Life of HVAC System
By taking steps to increase the efficiency of your HVAC system, you are also extending the life use of the components. Most HVAC systems are designed and produced to last up to 15 years. This may be possible only with the proper maintenance service by a professional technician.
An HVAC system installed will pay for itself but only if it is regularly cleaned and maintained. An HVAC specialist understands this and takes preventative steps to ensure your system works well for many years to come.
Contact AccuServ Heating and Air Conditioning for Preventive HVAC Maintenance in Toronto
As the leading provider of quality HVAC system installations, maintenance, and repairs, you can depend on the team at AccuServ Heating and Air Conditioning. With more than 30 years of experience in the HVAC business, our certified technicians can ensure your system is in tiptop shape.
From furnaces, air conditioners, fireplaces, water tanks, and boilers, we have the knowledge and state-of-the-art equipment to service all of your home HVAC needs. Contact us to discuss how our service plans can help you keep your system and home healthy and safe.