There are few appliances in your house more important than your boiler. After all, during those cold winter months, it's what makes your house liveable. But we've seen boiler maintenance in East York all too often go overlooked.
Keeping your boiler in good working order isn't as difficult as it appears. All it really takes is some routine checking of your boiler and knowing who to call when you need boiler repair services in East York.
That in mind, we've created this boiler maintenance checklist to help you keep your system in tip-top shape.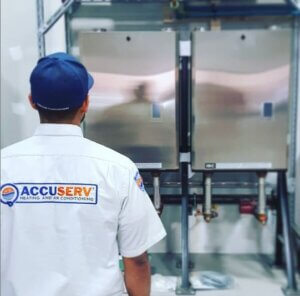 Check the Temperature Readings
The control panel display will tell you everything you need to know about the temperature and pressure of your boiler. Coupled with the manufacturer's manual as a reference, you'll be able to quickly discern if your unit is operating in the normal range.
It's worth noting that the season and weather can impact those readings, so it's good to take that into account. While it's best to consult boiler experts in East York to understand your boiler's appropriate ranges, typically you'll want to see about 60°C to 70°C in warmer seasons/climates and 75°C to 87°C in cooler ones.
Additionally, 12 psi is the recommended starting pressure during cold weather, while 20 to 30 psi is acceptable during warmer months.
Check the Combustion Air Openings & Piping
The combustion air openings and pipes serve a vital purpose: they transport fresh air from outside into the boiler to feed the flame. If there's a blockage in these vents and pipes, your system will begin to experience issues like stalling or even shutting down.
Look for blockages as well as leaks and worn piping. Catching these issues early can save you from an expensive and extensive repair bill.
Check Vents and Water
Like with most appliances and equipment, you don't want to see any leaks. While condensation is fine, if you're seeing water begin to pool around your boiler, that's a sign that a major leak is happening and that your boiler needs boiler maintenance. You'll also want to make sure that the vents that expel boiler exhaust are not blocked. This is hugely important to preventing potential CO poisoning.
Check the Relief Valve Discharge Pipe
The boiler relief valve is there to ensure that any excess water is released from the unit if the pressure or temperatures exceed the safe levels. These valves, however, can leak. Check them to see if there's any moisture forming around them.
Boiler Repair in East York That Saves You Time and Money
With our boiler maintenance checklist in hand, we're now ready to identify several common issues that your boiler may run into as it works to keep your house warm.
If you see any of these issues with your unit, then it's time to call in boiler repair in East York. But if you want the job done right, then you need the most experienced and proven boiler experts in East York. That means you need AccuServ Heating and Air Conditioning.
We are experts at all things relating to your boiler and will get the job done right the first time. We offer industry-leading customer service, so you'll leave totally satisfied and with a working boiler unit.
Have questions? We have staff ready 24/7 to answer any of your questions and concerns.
Contact us today or call us at (416) 269-2228 to get more information about our boiler maintenance in East York.