Installing your AC unit can be a big undertaking. It requires planning, preparation, and expertise to make sure it gets done right the first time. If you're in need of reliable experts for air conditioning installation in East York, then you've found the right people. But before we get to that, what do you have to consider before installing your AC unit?
There are a number of things you ought to consider before installing your AC unit. Below we'll explore several of them.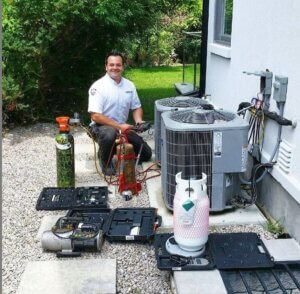 Know and Understand Your Air Conditioning System
Air conditioning units come in all shapes and sizes. And come in a variety of types as well. The three most common types are:
Traditional split system
Ductless mini-split system
Geothermal system
Each has its own specific requirements. A traditional system, for instance, is composed of an indoor and outdoor unit that filters in cold air via the ducts. A ductless system, by contrast, uses individual blowers inside the home rather than ductwork to deliver cold air. The geothermal system deploys an in-ground loop that lets the steady temperature of the earth heat and cool the house and is typically the most environmentally sustainable option.
Before you hire an expert for air conditioner installation, make sure you know which type of unit you have, and which one is best for your specific needs.
Consider the Size
The size of your AC unit will dictate a lot of things, like where it can be placed in your home and how effective the unit will be at circulating air around your home. If it's too small, it likely won't be able to comfortably service your home. If it's too large, you'll be paying a lot more upfront for a unit you don't really need.
Clean and Seal Your Ducts
Old ducts have to be cleared, cleaned, and aired out before you can bring in your new unit. Dirt, dust, and other debris in your vents can potentially be hazardous to your newly installed AC unit. The dirt and dust will also impact your air quality.
Energy Consumption
There are many good reasons to opt for more environmentally sustainable AC units. Not only are you helping to protect the environment by limiting the emissions of waste, but you also get the added benefit of saving on your monthly power bill.
Air Conditioning Services in East York from Trusted Experts
If you're ready to get that new AC unit installed just in time to head-off the hottest months of summer, then you need air conditioning installation in East York done by AccuServ Heating and Air Conditioning.
We're industry experts that can handle any need you may have for air conditioning maintenance in East York.
We have unparalleled customer service that ensures you're always getting treated with care, respect, and dedication from our team and that we'll always get the job done right.
Have questions? We have staff ready 24/7 to answer any of your questions and concerns.
Contact us today or call us at (416) 269-2228 to get more information about our air conditioning services in East York.