If you haven't had your furnace checked this winter, it's not too late! Regular furnace maintenance is crucial to ensure your furnace is working correctly and that your family is safe. The importance of furnace maintenance cannot be stressed enough, especially as people are spending more time at home.
If you are thinking it will be fine without a proper maintenance check for the rest of the winter, read on to see why this may not be the case.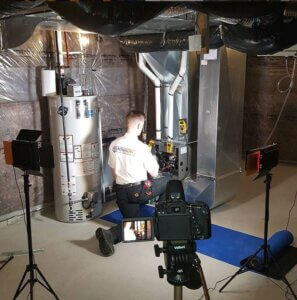 Reduces Your Energy Bill
Did you know a furnace in top working order can save up to 30% on the home's heating bill? That is a big savings considering the furnace makes up roughly 50% of your energy bill. A regularly maintained unit can use less energy than one not properly maintained at least once a year.
Increases Efficiency
Along with decreasing energy use, a well-maintained furnace can increase efficiency. This is seen with filters being replaced regularly as the continuous movement of air can cause filters to clog with dust, dirt, and debris. Without proper airflow, the furnace works harder to perform its job.
Protects Warranty
Just as we need to ensure our vehicle is taken care of to ensure our warranty is valid, our furnace also needs regular maintenance checkups to maintain the unit's warranty. Most furnaces are guaranteed for at least five years but if it fails at any time, the manufacturer may require proof of service dates.
Extends the Life of Your Furnace
By having regular maintenance, your furnace can perform at top working order for years to come. Proper cleaning of the unit, filters, and components can extend the life of your furnace. Without care, your furnace may need to be replaced long before it's time.
Reduces Furnace Repairs & Breakdowns
The last thing you want to happen on one of the coldest winter nights is for your furnace to break down, especially if it's the only heat source in the home. In addition to a costly repair, a non-heating furnace can cause cold air to be expelled, higher energy consumption, and even lethal carbon monoxide leaks.
Keeps You Warm, Safe and Happy During the Winter
A regular maintenance check by a certified technician can ensure you and your family enjoy a warm, safe, and happy winter season. While you may be late this season, have it checked to help you get through the rest of the winter months. Next fall, schedule routine maintenance to lessen any concerns in regard to the heating of your home.
The skilled experts of AccuServ Heating and Air Conditioning are ready to perform a 21-point inspection and tune-up, at any time of the year. Our furnace maintenance service in East York can ensure your furnace is in top form. We service dozens of manufactured furnaces such as Carrier, Napoleon, Lennox, and Rheem furnaces in Toronto and the GTA. Contact us today or call us at (416) 269-2228 to get more information about our 24/7 furnace repairs in East York.